Augmented Reality Application has arrived in Industrial mainstream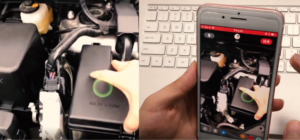 Since the wave of Pokemon Go game using Augmented Reality technology in 2016 that brought millions into AR world, AR has then be used by IKEA for their virtual furniture fitting, Sephora – the cosmetic gain to virtually test on mark-up after effect, which was very effective, in tourism virtual tour has created a change of consumers practice, but it is helpful for museum to combine education with its tour. We see global corporations like Google, Microsoft, Samsung are into AR/VR development for a market estimation of $161 Billion by 2025. (VynZ Research)  
Until 2020, industrial machinery repair, demo and training require specialists to fly off to destination to attend to the needs. These days, factories, hospital, offshore platforms, institution can no longer rely on hoping on a flight to service their clients due to COVID-19 travel constrain, well, except China domestic travel. Companies need to relook their marketing and CRM approach.  
AR could help customers to attend to repair and training instruction by the use of a mobile handset to attend to customers needs. It provides high quality live images with instructions or with immediate data for expert to determine applicable solutions. It is especially helpful for on-site technician to receive accurate diagnosis, repair instruction or clients to better under product function and value.  
Cost of AR development 
AR development is no longer costly as what has been perceived in early stage. Product AR demo and training is growing momentum and cost of development has dropped. AR is gaining weight and is becoming industrial mainstream for service, marketing and training essentials. You will see its growth starting from now.  
Sarah May – Founder MD of RINE.LiVE, a sister company of redlineasia.com (China marketing) with partner +AR in AR development. +AR dominate 60% of China AR development with 200+ projects per annum.